GTA Online: settimana del business
GTA Online: Business Week
New Vehicles, Cash Giveaway, 2X GTA$/RP on Contact Missions and More
Southern San Andreas is rewarding the entrepreneurial spirit of its citizens; whether you're fresh off the plane at LSIA or a longstanding VIP, everyone who logs in to GTA Online this week will qualify for a state sponsored gift of GTA$250K. To keep your hustle running like clockwork, they'll also slide you an additional GTA$150K for each subsequent day you log in to GTA Online this week, through May 14th. Earn over GTA$1,000,000 for participating every day. All bonus cash awards will be deposited into your Maze Bank account between May 15th and May 21st.
New Vehicles
The Overflod Tyrant is a testament to human ingenuity. We're not sure who's more impressive: the team of engineers who've taken us as close as possible to installing a gear stick and a steering wheel in the front of a hurricane, or the team of lawyers who got it classified as road legal. Take your pick and grab your Overflod Tyrant today, exclusively from Legendary Motorsport.
The Vapid Dominator GTX is the muscle car reborn: half brute force, half pristine performance and all American. When you're looking to make shockwaves through the streets of Southern San Andreas, look no further. The Dominator GTX, only at Southern San Andreas Super Autos.
Bonuses
Double Cash and RP on Contact Missions, Rockstar Stunt Races & Special Vehicle Circuit
Since excess is all the rage these days, we're giving you a trio of modes to earn double rewards in as well.
Keep an eye on your iFruit for money making opportunities from some familiar faces or load up any Contact Mission using the in-game menu to earn Double GTA$ & RP through May 14th.
Rockstar Stunt Races are also dishing out bonus GTA$ & RP to all competitors, and double payouts continue to roll on for the Special Vehicle Circuit, giving jetpack fliers and deep sea speedsters plenty of ways to profit off their lust for adrenaline.
Unlocks
Let the club know you're packing while flaunting your love for their services with the Vanilla Unicorn T-Shirt and Black Ammu-Nation Cap, both free unlocks to all who log in to GTA Online by May 14th.
And if you're looking forward to Red Dead Redemption 2 after this past week's trailer and previews, and have yet to unearth the Double-Action Revolver in GTA Online, make sure to check the inbox on your in-game iFruit for the first clue to unlocking this antique in both GTA Online and Red Dead Redemption 2. Look for another lost relic from the frontier to be unearthed in Los Santos later this year.
Discounts
You can't rule Southern San Andreas from your momma's basement—you need to own turf and this week every major business property type is getting a price cut to make your dreams of world domination a reality. Once your business operations are up and running, take advantage of one of the several speedy vehicles on sale throughout the week to travel quickly between them. And when it's time to escape the heat, hop into the flying fortress that is the Mammoth Avenger and leave the LSPD in your dust.
Check out the full breakdown for this week's discounts below.
PROPERTIES
Executive Offices – 50% off
Biker Clubhouses – 50% off
All Yachts & Yacht Modifications – 50% off
Bunkers – 40% off
Hangars – 40% off
Facilities – 30% off
ON THE GROUND
Mobile Operations Center – 30% off
Armored Kuruma – 30% off (Buy It Now & Trade Price)
Nagasaki Shotaro – 30% off (play a round of Deadline to unlock for purchase)
HVY Barrage – 30% off (Buy It Now & Trade Price)
Ocelot Ardent – 30% off
BF Dune FAV – 30% off (Buy It Now & Trade Price)
Bravado Half-Track – 30% off (Buy It Now & Trade Price)
BF Ramp Buggy – 30% off (Buy It Now & Trade Price)
Cheval Taipan – 30% off
Ocelot Pariah – 30% off
Pegassi Tempesta – 30% off
Grotti Cheetah – 30% off
Grotti Stinger – 30% off
Truffade Z-Type – 30% off
IN THE AIR
Mammoth Avenger – 30% off
FH-1 Hunter – 30% off (Buy It Now & Trade Price)
Buckingham Akula – 30% off (Buy It Now & Trade Price)
Western Company Seabreeze – 30% off (Buy It Now & Trade Price)
VEHICLE UPGRADES & WEAPON CUSTOMIZATION
Mobile Operations Center Upgrades – 30% off
Mammoth Avenger Renovations – 30% off
Benny's Upgrade – 30% off
Engine Upgrades – 30% off
Handling Upgrades – 30% off
Brake Upgrades – 30% off
Transmission Upgrades – 30% off
Turbo – 30% off
Suspension – 30% off
Spoilers – 30% off
Mk II Upgrades – 25% off (cost to upgrade to Mk II weapon)
Premium Race & Time Trial Schedule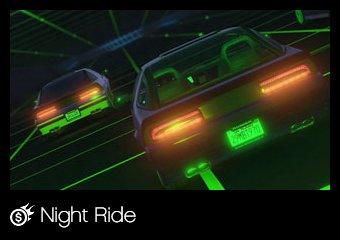 PREMIUM RACE: "NIGHT RIDE"
Compete in this week's Premium Race, Night Ride (locked to the Ruiner 2000), where the top three earn extra GTA$ and all participants get triple RP regardless of finishing position. Launch Premium Races through the Quick Job App on your in-game phone or via the yellow corona at Legion Square.
TIME TRIAL: "STORM DRAIN"
Check out this week's Time Trial, Storm Drain. Set a waypoint to the marker on your in-game map and enter via the purple corona. Beat par time and you'll be duly rewarded with GTA$ & RP.